Side-stepping from holiday gift and wish lists, I thought it would be fun to share some products off my personal wishlist.
So what exactly are wearable electronics? Some might refer to them as e-textiles, wearable tech, tech togs, or fashion electronics. Essentially, these are electronic components incorporated into clothing and accessories. You can make a simple baseball cap come alive with some LEDs or spruce up the back of that old denim vest with a mini light show. Design ideas are endless. And with so many projects and tutorials already out there, it's easy so get started! breakdance
One kit that's on my list is the ProtoSnap – LilyPad Development Board available from SparkFun.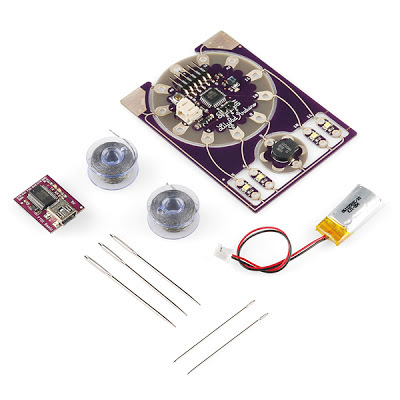 From SparkFun's listing:
The ProtoSnap LilyPad Simple Development board is a great way to get started in programmable e-textiles. By combining a LilyPad Simple board with 4 LED boards and a buzzer, the ProtoSnap LilyPad Simple Development board gives you everything you need to learn the basics. The kit also includes our LilyPad FTDI basic for programming the Simple board, conductive thread and needles and a Li-Po battery pack to power everything. The board also includes two pads to connect sensors using alligator clips (or use as a nifty touch-sensor)
I've yet to work with e-textiles, but I have dabbled in adding some LEDs to something wearable. Last year for the holidays, I adorned a headband fitted with deer antlers with a few LEDs. Unfortunately, I don't have any photos to share so instead, I've included a few examples of just what can be done with e-textiles.
Of course, there are so many more examples out there! Plus, so many other wearable types that don't require a lot of sewing. I've thought about adding some LEDs to knitwear and plushies. Have you tried your hand at e-textiles?