On a mission to solve this motor problem I was up late one night doing research. After some calculations and research of different motors I ended up ordering a few.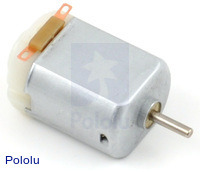 The difficult thing was finding a motor that was the same size and low power requirements but having more torque than what I had.
Fast forward to this week of 08/22/2011 and my motors have finally arrived. I spent the evening swapping the front two motors and testing the results before I replaced the other two. To my disappointment they seemed weaker than the originals.
The next day, I decided to put the originals back in. Wow! Such a pain to end up at square one. I ended up breaking 2 tabs, one on each motor. It was frustrating. But as a result, I will be posting a tutorial of how to fix these motors when the tabs break. I was about to put everything away and deal with it another day but after some investigating I figured out a way to fix the motor and make it usable. Should be posting that within the next week or so.
So now it is back to the drawing board to solve my under torque issues. I have some ideas as how to proceed but I might just skip ahead to my custom PCB phase instead.
I need to do some tests to see if maybe my motors just don't have enough current available.
I could design a custom motor controller with separate power inputs and higher current limits.
I am thinking to look into modifying the current motor controller to allow for separate logic and motor power inputs.
Two and three allow me to remove the step-up convert which would be nice plus better power efficiency.
But after all this, I'm thinking it might be better to skip ahead, go with the next phase and design a custom PCB that includes all parts.
This would be a PCB with motor controller, Arduino Mega and other shields all in one. Plus a nice signal connector for all sensors.
Also, this would be my first PCB design and I am looking forward to it; but it would delay a working robot for awhile, at least.
If anyone has some ideas or can help please drop a comment below. This is really my last problem and the rest is all coding.
Here is the current thread with more details.
This week I have been out sick and I will be flying to my cousin's wedding next week. Other than my tutorial you won't see any posts until September but I'll still keep in touch via the comments.