Another crowd sourced campaign completed! This one, from Indiegogo is called Nextion HMI, Human Machine Interface. This display offloads the UI elements, processing, and design away from your microcontroller. Nextion has an editor that you design your UI with drag n' drop elements. Then your microcontroller just interacts with the display over serial to retrieve button press and other events. I believe this is similar to 4D systems but affordable. Sweet!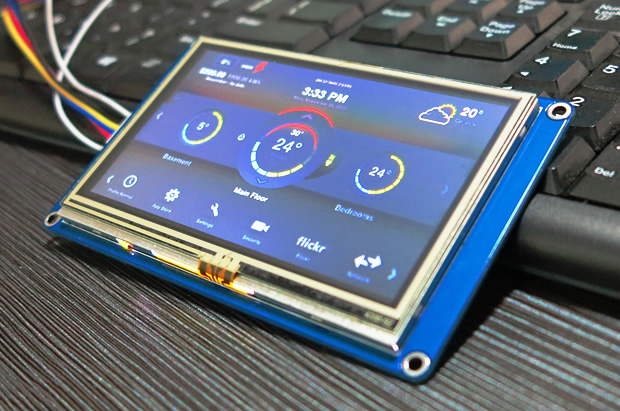 Nextion in action. Image from Indiegogo.
Here are some of the specs for the 2.4in. For details check Indiegogo or their site http://imall.itead.cc/display/nextion.html.
320 x 240 Resolution
RGB 65K true to life colors
TFT Screen with integrated 4-wire Resistive Touch Panel
Easy 4 pin interface to any TTL Serial Host
4M Flash memory for User Application Code and Data
On board micro-SD card for firmware upgrade
Visual Area:36.72mm(L)×48.96mm(W)
Adjustable Brightness:0~180 nit, the interval of adjustment is 1%
5V90mA power consumption
Indiegogo was for 2.4in and 4.3in. Now they are releasing 5.0in, 7.0in and 2.8in. Anything over 2.8in comes in a higher resolution which is nice.

Here are the hardware details from there campaign: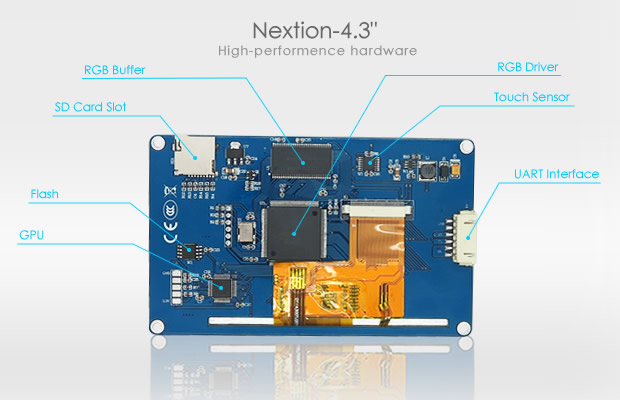 The main microcontroller is a STM32F030C8T6
The larger displays have a RGB Driver and buffer. The RGB Driver is a CPLD from Altera, the Max II EPM570T144C5N.
The only thing is that the SD Card is only for the display and it is not accessible by connected microcontroller, at least so far.
I hope to have fun with these in various projects. Maybe try it out with the Raspberry Pi and Python… Who knows which projects these display may end up? <wink, wink>