A few months ago I jumped on the pre-order impluse buy for the Freescale Freedom-KL25Z. Thankfully I had forgotten about it until I recieved shipment notification. It was nice that I didn't have to wait too long. Today it as arrived. Here are some close-up pictures – thought it would be nice to have some since there doesn't seem to be any up yet.
If you would like to get one, I ordered it from element14newark.com.
Here are the specifications as listed on Newark's website. I cannot wait to start playing with it!
FYI: If you order it now, I am pretty sure you don't get the headers. The orginal listing was a prototype board with headers and when they released the final version, it didn't have headers, so they included them with the pre-orders at no extra cost.
Board Features:
KL25Z128VLK4—Cortex-M0+ MCU with:

128KB flash, 16KB SRAM

Up to 48MHz operation

USB full-speed controller

OpenSDA—sophisticated USB debug interface

Tri-color LED

Capacitive touch "slider"

Freescale MMA8451Q accelerometer

Flexible power supply options

Power from either on-board USB connector

Coin cell battery holder (optional population option)

5V-9V Vin from optional IO header

5V provided to optional IO header

3.3V to or from optional IO header

Reset button

Expansion IO form factor accepts peripherals designed for Arduino™-compatible hardware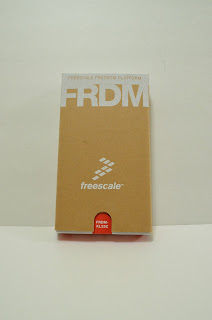 Freescale Freedom-KL25Z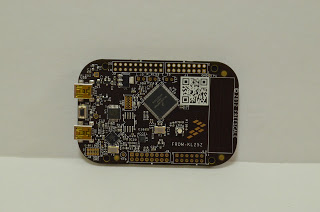 Freescale Freedom-KL25Z – Front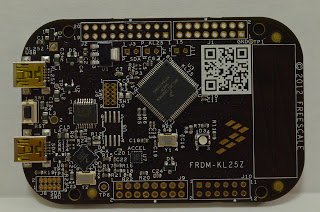 Freescale Freedom-KL25Z – Front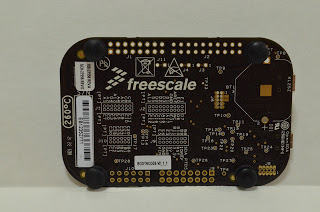 Freescale Freedom-KL25Z – Rear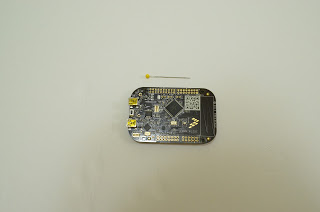 Freescale Freedom-KL25Z – Size Comparasion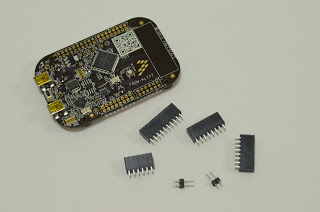 Freescale Freedom-KL25Z – Headers