The 100th post has arrived! So to celebrate, we're having a giveaway! I wrote about it earlier, and I still cannot believe that it is finally here. I've wanted to extend my gratitude to those who follow my blog here, and to the electronics community, especially when it comes to Opensource.
Thanks to our friends over at DFRobot for sponsoring this giveaway!
A little background about them: as an online shop, they specialize in robotics. They make and sell a variety of boards (offering PCB services), tools, components, kits, etc. If it's about robots, chances are, they've got it. They also plenty of other electronic items. If you've yet to hear about them, go check them out!
The prize: Dreamer Nano V4.0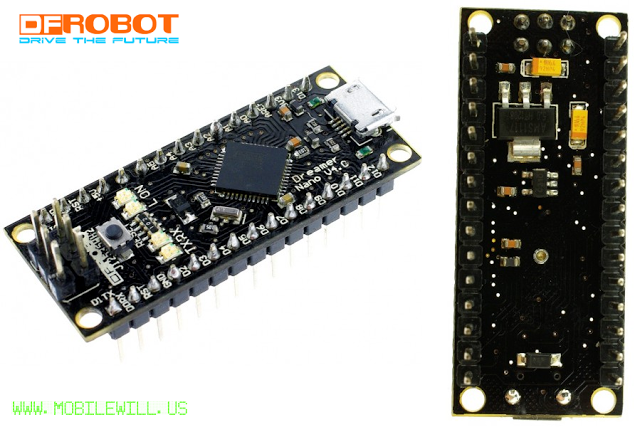 Source: DFRobot, with editing by heartsy
Description from DFRobot:
The Dreamer Nano V4.0 is a surface mount breadboard embedded version of the ATMEGA 32U4 with integrated Micro USB. It has everything that Arduino Leonardo has (electrically).Physically, it is just missing power jack to save space.

Using the ATmega32U4 as its sole microcontroller allows it to be cheaper and simpler. Also, because the 32U4 is handling the USB directly, code libraries are available which allow the board to emulate a computer keyboard, mouse, and more using the USB-HID protocol!
The Dreamer Nano v4.0 is compatible with most Nano shield in the market. It's suitable for projects that require a compact size controller system.

Specifications

Microcontroller:ATmega32u4

Input Voltage (recommended):6.5-12v (VIN) / 5v (Micro USB)

Input Voltage (limits):6.5-12V

DC Current per I/O Pin:40 mA

DC Current for 3.3V Pin:50 mA

Flash Memory:32 KB (ATmega32u4) of which 4 KB used by bootloader

Compatible with most of Nano shield
We think this prize makes a great starter microcontroller that is
breadboard
-able, and
Arduino Leonardo
compatible.
How to enter the giveaway:
One comment, answering: How did you get started into (or what brings you to) electronics?
Winner will be picked with a random number generator using an Arduino.
The generator will be recorded in action & uploaded on the blog, in a new post.
Be sure to log in when you comment. Anonymous types will not be accepted.
Giveaway is now until Thursday, November 22, 2013 at 11:59 PM PST. Winning announcement will be held that same weekend.
Should you have any questions, please send me an
e-mail
instead of leaving a comment. Good luck!