I don't usually post about my personal life as this blog was created to document my hobbies and projects but this past weekend warranted a post.
A few weeks ago my partner and I had Veterans day off so we thought it would be a perfect opportunity to getaway for the long weekend. We decided to take a trip to Santa Barbara. During our travels from southern to northern California, we make it a point to stop there. It has become our "spot." We've wanted to plan a weekend trip to the area for quite some time but we never had the time or the funds (robotics add up!). While there, our plans were to do some hiking, wine tasting, and tour the city overall. But I also had another agenda. Something that I had planned for awhile but I just hadn't found the right opportunity. This gave me the motivation to make sure this weekend trip transpired. The best part: she was planning the trip which gave me the perfect cover! I just had to figure out the rest.
We knew we were going to go but we hadn't booked a place to stay. So we sat down to book a room and we decided we would figure out the rest later. As the trip was approaching, we still didn't know what we were going to do there except to see the Old Mission Santa Barbara. She wanted to go hiking and kept recommended Ojai, a town just north or Santa Barbara. We kept that idea open but looked for more. As we continued to look for hiking trails, I came across the Channel Islands National Park. This got me thinking that this would be perfect for my alternate agenda. I still didn't have the details of how to get there or the costs, but I knew that is where I wanted to take her. So Thursday night rolls around, we've checked into our room and we found ourselves without definite plans. Since I really had my heart set on the island, I knew we had to book a trip out there. Plus, I had to make it happen despite the cost. The official boat ride was out of Ventura at 9am, a thirty minute drive from Santa Barbara. You're expected to arrive 45 minutes early. Upon more research, it occurred to us that we needed supplies for the day as this is an isolated island. It was already11pm and we realized we would have to get up super early if we wanted to do this. So I booked the trip and we went straight to bed.
The next morning, at 5AM, we zombied ourselves out of bed, got ready and drove to the nearest grocery store. Good thing they were open early! I followed her around as she whizzed through the store, gathering picnic lunch items and a few hiking snacks. We hoped in my car, and drove toward Ventura, the sunrise along aside us. We grabbed some breakfast, two hot drinks, and made it to the Ventura harbor with plenty of time. Once checked in, we boarded the boat, both of us super excited to be heading to an island away from reality!
The night before we had looked at the map of some of the trails and we agreed we would do the easy to moderate hike. Once we arrived to the Santa Cruz island, I saw the perfect hike which wasn't the same as we chose but it holds a better view. The tour guide docent mentioned it was better to do it backwards as it's easier to hike up steep trails. I thought it was the moderate one as it is longer than the easy one. Before we headed onto the trail, we followed along the tour, learning about the history of the island. After the tour was going to off on another trail to hike, we split off from the group. As we hiked though the canyon, I decided to look at the map and I realized we where on the Scorpion Loop trail which is 4.5 miles instead of the 2 mile one I thought we were doing. I asked her if that was fine and she was okay with it. I figured we had enough time (we had to be back to the dock by 3PM) and once we got through the beginning the rest would be easy.
While hiking the canyon, I came across a pair of sunglasses in the creek crossing. I knew that there was only one hiking group ahead of us that left before since they didn't do the hike with the docent so I figured they wouldn't come back for it and I was better off taking it with us. Either I would catch up with them or I would see them on the boat later.
As we moved away from the canyon and began more an incline we started to slow down as our bodies adjusted to the 35% incline gain. We hadn't been hiking in some time so we had to take it easy. After a while I had to keep telling her that it was worth it and we were almost there as it was getting pretty steep. More hiking up hill and still not at the top yet, she wasn't very happy, but we kept going and we made it to the top where the old oil derrick was.
Before we reached our resting point I ran into the other hikers who where taking a break and I chatted with them for awhile while I waited for her to catch up to me. It was interesting to meet people all the way in Santa Barbara from Oakland. They where there visiting with their daughter who was from Los Angeles. Once she caught up, rested for a bit, we continued.
We finally made it to the top of the trail. A good spot to rest and have some lunch near the island's old oil derrick. I knew the moment was close since after this we would be heading back so it was now or miss the perfect moment and location. The view and weather was breathtaking. Our lunch was nearing to an end and I scrambled to think of different ways to execute my alternate agenda. It came to me after she said she had to get up. We packed our stuff in my backpack and then she got up, using my shoulder as support. It was now or never. I started to get up while telling her that I had something in my pocket for her. She asked if it was candy. I chuckled and told her it was a surprise. So as I pretended to get up midway I took a little hand sewn bag out of my pocket and told her how I felt with a marriage proposal. Without hesitation she said, "Of course! Yes!"
Wow that look on her face…. I've never seen her so excited like that. We were excited and we wanted to tell everyone right away except for one problem: we where on a remote island. So we had to tell the other hiking group behind us, the ones that I had recovered their missing sun glasses. It didn't stop there and before the end of the hike, the volunteer guides knew as well as a few other hikers. By the time we got back towards the mainland, the boat Captian announced it over the loudspeaker. It did feel a little awkward being the center of attention on a random boat trip with random people. But it was fun and a boat trip I will never forget.
The rest of the trip was very enjoyable and on the way back home it felt like a fairy tale was coming to an end.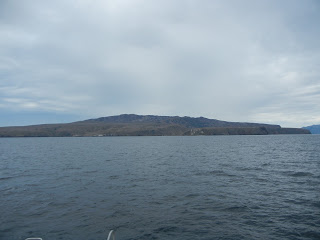 Above is a picture of our approach to Santa Cruz Island before she knew she would be engaged on 11-11-11 (binary day).