Now that I am back at the ranch office, I can post the rest of the pictures and tell you about all the exciting things that took place at the 2012 Maker Faire.
There is so much to cover I don't know where to start. I should start out noting that this year both Jenn and I volunteered. We did this for a few reasons, one was cost as we have a wedding and some other things coming up. Secondly, we wanted to be more involved and so we figured this would be a great opportunity. She found the Maker Corps via an email and I had seen a blog post by DFRobot asking for help. So we both jumped at the opportunity.
The fun started Thursday when we where heading out to Maker Faire for the Maker Corps orientation for my fiance @heartsy (Jenn). After dealing with traffic we arrived a few minutes late. Orginally I was going to drop her off and go to the taco crawl at NoiseBridge hackerspace with Ian Lesnet but with the traffic I decided not to go since it was 6:00pm already. Instead I tagged along for the orientation and it ended up being well worth it. We learned a lot about Maker Faire and what was to come over the weekend.
On Friday evening, there was a paella party for the makers. Fortunately it worked out that we were both able to go thanks to DFRobot. The party was a blast and I was already starting to meet new people. This was a great time to meet other makers and enjoy the grounds without the masses of people that would arrive the following morning.
Arriving just past 9:00am, we were ready for the Maker Faire to begin. My shift with DFRobot started at 10:00am so I went ahead and joined them at their booth. Hector and I had already hit it off the night before so I was really excited about this opportunity. Before the crowds arrived I made sure to become familiar with all of the products they were showing at the faire, some of which I had or knew about already. Over the course of the three hours I spent there, I met many people and enjoyed watching them trying to defuse the bomb simulation. The bomb simulation was a great way to attract the crowd to their booth. Before I knew it, it was 1:00pm and I needed to get some food so I could see as many presentations as possible. That was the one issue I had was I wanted to see most of the presentations but a lot of them where at the same time.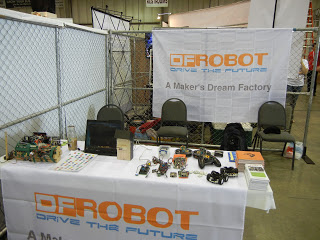 Here is a quick list of the presentations I visited during the weekend:
Saturday
1:30pm Manufacturing Open Source Hardware – Get your stuff made – by Ian Lesnet
3:00pm The State of Arduino – by Massimo Banzi
3:30pm iOS Sensor Apps with Arduino – by Alasdair Allan (Partial)
5:00pm Z-Wave Mesg Networking: An Introduction and How-to – by Gregory Brill
6:00pm Open Source Geiger Counter – by Jeff Keyzer
6:30pm Experience Flight with Aero! – by Lucien Vattel (Partial)
Sunday
11:00am Raspberry Pi Founders Offers Tips for Programming Super Computer – by Eben Upton
11:30am Radioactivity: Its In the Air For You and Me – by Kristen Mcintyre
12:30pm Gamification, Robotics, Simulators: How to get Started Using Java – Panel by Justin Kestelyn, Daniel Green, Caron Newman, Ultan O'broin, and Kevin Roebuck
1:00pm Sewing Electrified – by Shannon Henery (Partial)
2:00pm The Bay Lights: 1.5 Miles of Public Art on the Bay Bridge – Panel by Ben Davis, Timonthy Childs, Amy Critchett, Saeed Shahmirzai, and Leo Villareal.
2:30pm Wearable Computing: Adaptive Tech to Blink and Blink – by Lynne Brunning and 3 others showing there wearables
4:30pm DIY home Security – by Peter Vieth and one other person
I would have to say Saturday was the most exciting because of the people I met during the course of the day.
The first person I was on a mission to meet was Ian Lesnet. I tired to find him earlier but ended up talking to him after his great presentation. It is my hope that one day, I could do what Ian is doing. Here is a link to his presentation. Here we are below.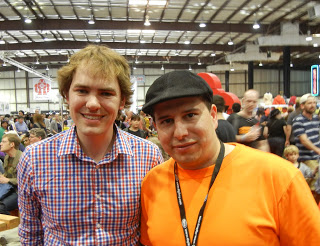 Ian Lesnet and I with the DFRobot bright orange shirt
I visited the BeagleBoard booth to talk to them about the BeagleBone. I was able to see the web interface and the Cloud9 IDE, which was pretty neat. I can't wait to get my hands on want and see what I can do with it. I learned that the OpenCV library is included on the shipping build, which is perfect for getting my Security Robot to the next level.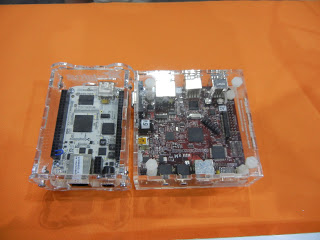 Left: BeagleBone Right: BeagleBoard xM
During the Massimo presentation he talked about the Arduino Leonardo (On sale for the first time at the faire!) and the new hardware beta program. They were looking for people to test and give feedback on the Arduino Duo. At this point I knew I had to jump on it and share my project. Once I found their booth I waited till Massimo has some free time to talk to people. He had to finish an interview. I have to say he is a really nice guy and he stated that he is "truly amazed at how Arduino has grown." Excitedly, I told him about my Security Robot and how I needed more processing power. I was so excited when he let me sign up for the beta program and handed me the Arduino Duo Developer Edition. I just couldn't believe it! Given from the man himself!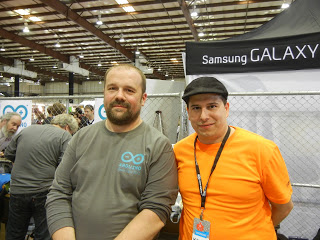 Massimo Banzi and I
Saturday was coming to an end, so we decided to stop by DFRobot before heading out. We ended up staying there awhile to chat. Good thing we did! Mid-sentence I saw someone out of the corner of my eye. I had to do a double take as I couldn't believe it, it was Myriam Joire (@tnkgrl – Senior mobile editor of Engadget). Last year, I had kept an eye out for her but didn't run into her. This year I wasn't even sure if she was going to be there, but it did cross my mind. I wish I had chatted a bit more but I at least got this picture and got to touch her current review unit. That was more than I could ask for! Thanks tnkgrl!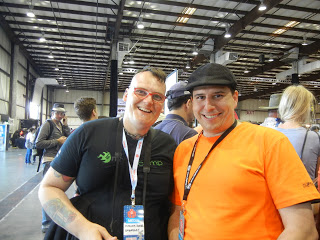 Myriam Joire and I
Sunday was a lot of fun as well, as you can tell I was trying to hit all the presentations. In the afternoon I met up with @heartsy and was able to see that stuff I missed. First we had to go visit Caine of Caine's Arcade. That was pretty cool seeing him teach other kids all about cardboard arcades. Imagine if more of us could do that at such a young age? We walked through Homegrown Village and Bizarre Bazaar. Finally we decided to keep the tradition of test driving the Chevy Volt.
We ended the day by saying goodbye to our friends at DFRobot and the others that volunteered. I couldn't believe that they gave me a DFRobot Romeo for helping! I was really thankful and I look forward to working with them again or possibly visiting them in China. What a great experience and I met some wonderful people. Definitely want to stay in touch! On our way out we stopped by the Oracle booth but I didn't find it interesting as it was a demo of drag and drop code. I'll still check out http://www.greenfoot.org which was mentioned at their presentation.
I had a great time but missed a few things. I noticed the guy at the TI booth was from their MSP430 videos and I meant to go back to the booth with the S107 helicopters. It was a great experience and I can't wait for next year! Maybe one of these years I will have my own booth with all of my robot creations.
If you have any questions about the Maker Faire please post below. I would love to hear about your experiences! You can find more pictures of the Maker Faire here.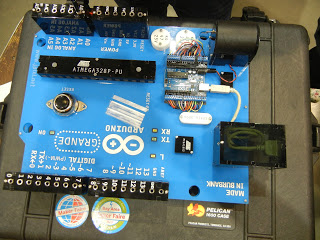 The largest Arduino Uno you will ever see!